A Celebration for Resilience
featuring
Chef José Andrés
interviewed by
Kristina Wong
Thank you for your interest in sponsoring our annual event celebrating this year's cohort of Resilience Fellows and Scholars.
"A Celebration for Resilience" brings together thought leaders, industry experts, and change-makers for an evening with renowned humanitarian and celebrity Chef José Andrés and Gammage Artist in Residence Kristina Wong.
By sponsoring "A Celebration for Resilience," your organization aligns itself with ASU's core values of resilience, innovation, and community impact. Our university has been a driving force in groundbreaking initiatives, and your sponsorship will showcase your brand's unwavering commitment to these critical ideals.
Moreover, the event will feature the 2023 cohort of Resilience Fellows and Scholars, who will present their groundbreaking work conducted throughout the last year. This association positions your brand as a thought leader, showcasing your dedication to innovative research and community empowerment.
By sponsoring this event, your business gains exclusive access to our VIP Reception that is attended by numerous influential individuals, KER's Resilience Fellows and Scholars, and organizations actively contributing to resilience and community development. This sponsorship offers a unique chance to expand your network, cultivate collaborations, and forge meaningful relationships that can drive your business forward.
Our event promises substantial media coverage and public attention, providing your business with an invaluable platform to amplify its message. Through strategic media placements, interviews, and robust social media engagement, your brand will gain extensive exposure, reaching a broad audience locally and globally.
Thank you again for your interest in this exclusive opportunity to be part of a transformative event.
Please contact Stephanie Booker at 904-705-2121 to register your support or email stephanie.booker@asufoundation.org.
Event Statistics
Date: November 8th, 2023
Time: 7:00pm - 9:00pm
Features: VIP Reception,
"Red Carpet" Photobooth,
Celebrity Speakers
Attendees: 350+
• Thought Leaders
• Researchers
• Business Owners
• Government Officials
• Non-profit Leaders
• Media Personalities
• Change-makers
• Community Activists
• Education Administrators
Location: ASU Gammage
1200 S Forest Ave, Tempe, AZ 85281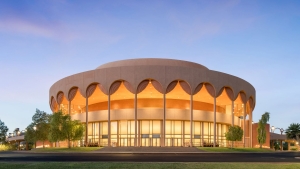 Sponsorship Levels and Benefits
$50,000 Presenting Sponsor
Twelve event tickets
VIP Reception with KER Fellows
Personal Introduction to Event Speakers
Logo placement on website and at event step-and-repeat
Special recognition during event
VIP seating at event
Included in social media post highlighting event sponsors
Special Thank You E-mail blast to KER network
Twelve hardback copies of José Andrés' book "We Fed an Island"
Opportunity to make remarks or show video at the start of the event (5-10 min)
5 Slides in preshow presentation

Two-Page Spread in Event Program (8.5 x 11, Full Color)

FMV $696
$25,000 Event Benefactor
Eight event tickets
VIP Reception with KER Fellows
Logo placement on website and at event step-and-repeat
Special recognition during event
VIP seating at event
Opportunity to make remarks or show video at the start of the event (2-5 min)
4 Slides in preshow presentation
Included in social media post highlighting event sponsors
Six hardback copies of José Andrés' book "We Fed an Island"
Full Page in Event Program (8.5 x 11, Full Color)

FMV $398
$15,000 In-part Sponsor
Six event tickets
VIP Reception with KER Fellows
Logo placement on website, program and at event
Special recognition during event
3 Slides in preshow presentation
VIP seating at event
Included in social media post highlighting event sponsors
Two hardback copies of José Andrés' book "We Fed an Island"
FMV $181
$10,000 In-part Sponsor
Four event tickets
VIP Reception with KER Fellows
Logo placement on website, program and at event
2 Slides in preshow presentation
One hardback copy of José Andrés' book "We Fed an Island"
Special recognition at event

VIP seating at event
FMV $140
$5,000 In-part Sponsor
Two event tickets
VIP Reception with KER Fellows
Logo placement on website, program and at event
1 Slide in preshow presentation

VIP seating at event
FMV $60