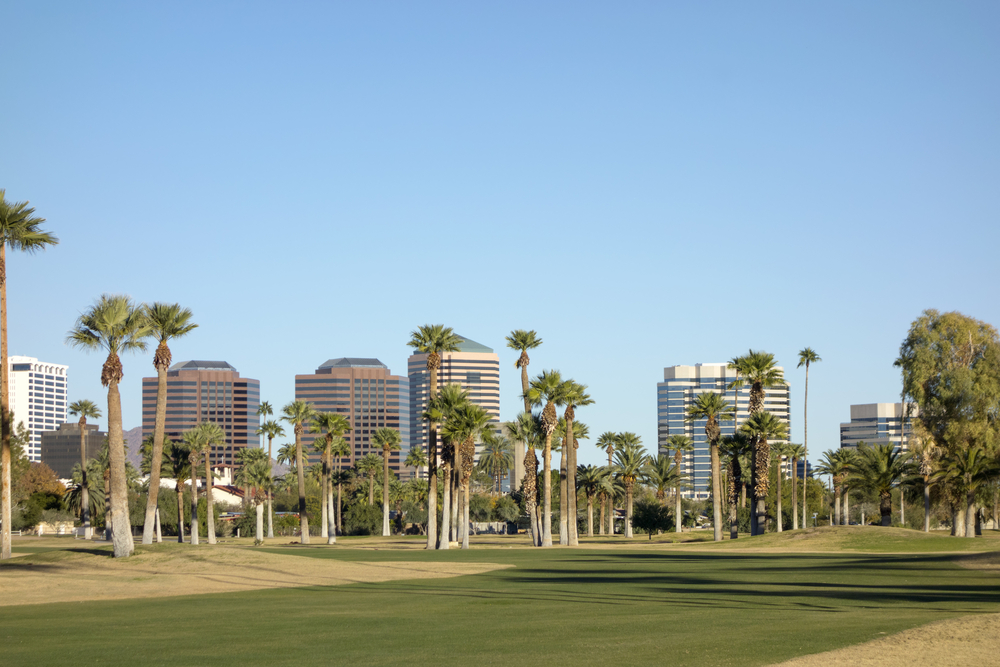 Multifunctional green infrastructure in arid cities
Sara Meerow, ASU School of Geographical Sciences and Urban Planning
Background
We dramatically transform the landscape when building cities, adding large areas of pavement and buildings. These changes contribute to a number of problems that negatively affect people's health and wellbeing, such as air and water pollution, increased runoff when it rains, and more extreme heat. Many cities, including Phoenix, are using green infrastructure - vegetation, soil, and other built elements - to address these problems simultaneously and enhance resilience.
However, many of the benefits of green infrastructure only affect surrounding areas, so location matters. The way green infrastructure is designed also determines its effectiveness.
Research questions
What synergies and trade-offs exist in planning multifunctional green infrastructure?

How can it be optimized in Phoenix to improve urban resilience?
Methods and findings
Most studies focus on the stormwater management and water quality benefits of green infrastructure in arid environments, fewer evaluate heat or air quality benefits.

Studies show a lot of variation in how different green infrastructure designs perform.

It is challenging to find high resolution and quality data for all of Phoenix to use in prioritizing areas for green infrastructure.
Partners
A partnership with the Nature Conservancy, U.S. Bureau of Reclamation, City of Phoenix, Flood Control District of Maricopa County, and Maricopa County Air Quality Department contributing to an ongoing three-year study

Mukunth Natarajan and David Krantz, two PhD students in the School of Sustainability
Impact
We need more studies on green infrastructure performance in arid environments.

Higher-resolution data on flooding, air and water quality and heat across the city would be useful for green infrastructure planning.
Sara Meerow
Assistant Professor
ASU School of Geographical Sciences and Urban Planning; Julie Ann Wrigley Global Institute of Sustainability; Urban Climate Research Center
Academic Fellow, 2019
Sara Meerow is an interdisciplinary social-ecological systems scientist working at the intersection of urban geography and planning. Her research tackles the challenge of how to make cities more resilient in the face of climate change and other social and environmental hazards. She combines more conceptual studies of urban resilience with empirical research on the complexities of green infrastructure and climate change adaptation planning in a range of cities. Meerow emphasizes problem-driven, collaborative research that combines qualitative and quantitative methods with spatial analysis. She earned her doctorate in 2017 from the School of Natural Resources and Environment (now the School for Environment and Sustainability) at the University of Michigan. She also has a master's in international development studies from the University of Amsterdam in the Netherlands.