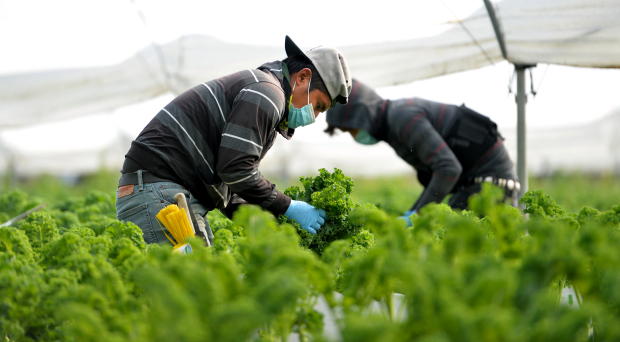 Assessing Phoenix farmers' vulnerabilities to shocks and stresses
Joseph Rossell, City of Phoenix
"The fellowship created an invaluable opportunity for me to engage the local growing-community and learn how the city can better address their needs and challenges."
- Joseph Rossell, KER fellow 2020
Background
Before COVID-19, food producers in the City of Phoenix exhibited varying degrees of vulnerability, threatening their long-term economic viability and the local food system's overall health. As the pandemic's effects rippled across society and the economy and already challenged local growing-community endured a new financial disruption as shelter-in-place orders, restaurant closures, and shuttered schools impacted segments of their customer base, resulting in lost revenue.
Food systems aren't always a focus for economic development departments, but the City of Phoenix community and economic development department recognizes how critical a healthy, equitable, sustainable, and resilient food system is to the region's future. In partnership with the city's office of environmental programs, it aims to devote as much effort to supporting and promoting the economic resilience of businesses across the food system as it does to technology startups, advanced manufacturing firms, big office users, and other traditional economic development targets.
Research questions
What is the state of the local growing community within the City of Phoenix?

How is the local growing community responding to the loss of certain markets due to COVID-19?

To what extent do farms of various types and scales differ in those responses?

How does the current pandemic influence how farms and other growing entities prepare for future shocks?

What actions are the local growing community implementing now to continue growing food during a hotter, more arid future?

What capacity exists for the local growing community to partner with the City of Phoenix on implementing a climate resilience measure into their operations?

How can the City of Phoenix support the economic viability and resilience of local farms and growers?
Methods and findings
For his project, Rossell conducted interview surveys with 21 Phoenix-area farmers to gain a deeper understanding of the local growing landscape, to identify their needs and challenges, and to assess the impact of COVID-19 on local growers, particularly how different growing entities across scale and type responded to its economic effects. These surveys also aimed to determine how the current pandemic influences how farms prepare for other future shocks; what current measures are in place to grow food in a hotter, drier climate; whether they have an interest in implementing specific climate adaptation and/or mitigation measures to become a more climate-resilient farm; and ultimately how the city can support their economic viability and resilience.
Common challenges the growers expressed were difficulty identifying suitable land to lease or purchase, overbearing land use regulations, lack of municipal and community understanding of the local food system, lack of access to resources and markets, and scarcity and cost of water. They identified land preservation and accessibility, updating zoning restrictions, providing incentives and resources, and prioritizing food production within city strategies as the main types of support the city could provide. Rossell also found that COVID-19 had led to a loss in key sales channels for 62% of these growers and that 52% had pivoted to new market opportunities. As a result, 67% are now preparing for general future shocks and disruptions. Finally, 76% are already implementing measures that will help them grow food in a hotter, drier climate, and 95% of growers surveyed expressed interest in partnering with the City of Phoenix to adopt or expand new measures.
Partners
Arizona State University
City of Phoenix
Rosanne Albright, Environmental Programs Coordinator, Office of Environmental Programs

Nathan Wright, Deputy Director, Community and Economic Development Department

Christine Mackay, Director, Community and Economic Development Department

City of Phoenix Local Growing Community
Impact
Rossell says that the project allowed him and his colleagues to rethink how a 21st-century community and economic development department engages and supports the local growing-community. His work inspired solutions in both strategy and implementation. By identifying growers interested in partnering with the city, Rossell helped the department to allocate nearly $30,000 to South Phoenix farms and community gardens to adopt or expand innovative, sustainable food production practices and climate resilient infrastructure. Of eight proposals, three growing entities were awarded funds: Maya's Farm, Project Roots, and The Orchard Community Learning Foundation. They aim to share the results of these efforts with the rest of the local growing community.
This project also inspired and informed the development of a Food System Entrepreneurship & Innovation strategy in his department. The new focus area is designed to support, promote, and enhance entrepreneurship, innovation, and community resilience across the local food system. The systems-based strategy was adopted and included into the department's 2020-2021 Economic Development Strategic Action Plan. Rossell is also sharing his findings with the City Council and the City Manager's Office to further understanding of the local growing community's needs and challenges. He notes that his project represents the first phase of a larger, more comprehensive effort to support and promote all entities' economic viability and resilience across the food system. He hopes that this systems-based economic development approach can become a model for future initiatives within other systems.
Deliverables
Rossell's deliverables for this project include a Market Intelligence Report based on his survey findings; a Request-for-Proposal (RFP) issued to survey participants to partner in implementing climate action and resilience measures into operations; and new department strategy focused on supporting and promoting food system entrepreneurship, innovation, and resilience. Read his report below to learn more about these efforts.
He also plans to create a story map of his findings for the economic development department website as well as a presentation to City Council.
Joseph Rossell, City of Phoenix
Food Systems Program Manager
City of Phoenix Office of Environmental Programs
KER Fellow, 2020
Joseph Rossell is the Food Systems Program Manager at the City of Phoenix Office of Environmental Programs. He manages multiple programs aimed at achieving the City's Food and Climate Action Plan goals, including grants and training initiatives. He has a background in circular economy and economic development, was named an Emerging Sustainability Leader by Arizona Forward, and served as a Knowledge Exchange for Resilience (KER) Fellow at Arizona State University where he created a micro-grant program to support farmers in transitioning to sustainable agriculture practices. Joseph holds a bachelor's degree in sustainability from Oregon State University and a Master of Public Administration from Arizona State University.