Resilience Playbook
A Knowledge Exchange Playbook to Build Resilience
In the face of profound shock and change, individuals, organizations, and communities are seeking new ways to prepare for an uncertain future, their only certainty being that the present trajectory of change will intensify. This playbook, co-published with the Global Council for Science and the Environment, is intended to support these efforts to build stronger, adaptive, and more resilient communities.
Use the plays and tools below to help create a game plan for your collaborative, community-engaged project. Feel free to adapt, combine, and improve upon them to better fit your needs.
Play — A set of processes which comprise a strategic activity designed to initiate and/or facilitate knowledge exchange between diverse actors.
Tool — A specific instrument which supports one or more processes in a play.
Plays for every phase of your project
We have organized the plays and tools according to four general stages of project management — initiation, planning, execution and closure.
Initiation Phase

An initiating team jointly identifies a compelling need through a shared narrative and project scope. This team builds its capacity and begins to recruit potential collaborators, forming a core collaborative team that commits its time, energy and resources to planning and executing a community resilience project.

Planning Phase

The core team assesses its readiness to address the compelling need, gathers the resources necessary to execute the project, enrolls critical community partners, and creates stable collaborative processes and expectations for the execution phase.

Execution Phase

The core team and critical community partners execute the planned project activities and create deliverables, fulfilling the compelling need and building community resilience.

Closure Phase

The core team measures and analyzes project outcomes and reports them to the broader team and others interested in the project. The collaboration either ends gracefully, or future collaborative projects and next steps are planned.
Plays in practice
The playbook provides plays and tools designed to help researchers and community members collaborate on shared, use-inspired research. But what do these plays look like in action? Margaret Hinrichs, KER Academic Enterprise scholar and co-editor of the Knowledge Exchange Playbook for Resilience, discussed examples of the playbook in action during this lecture for ASU's School of Complex Adaptive Systems.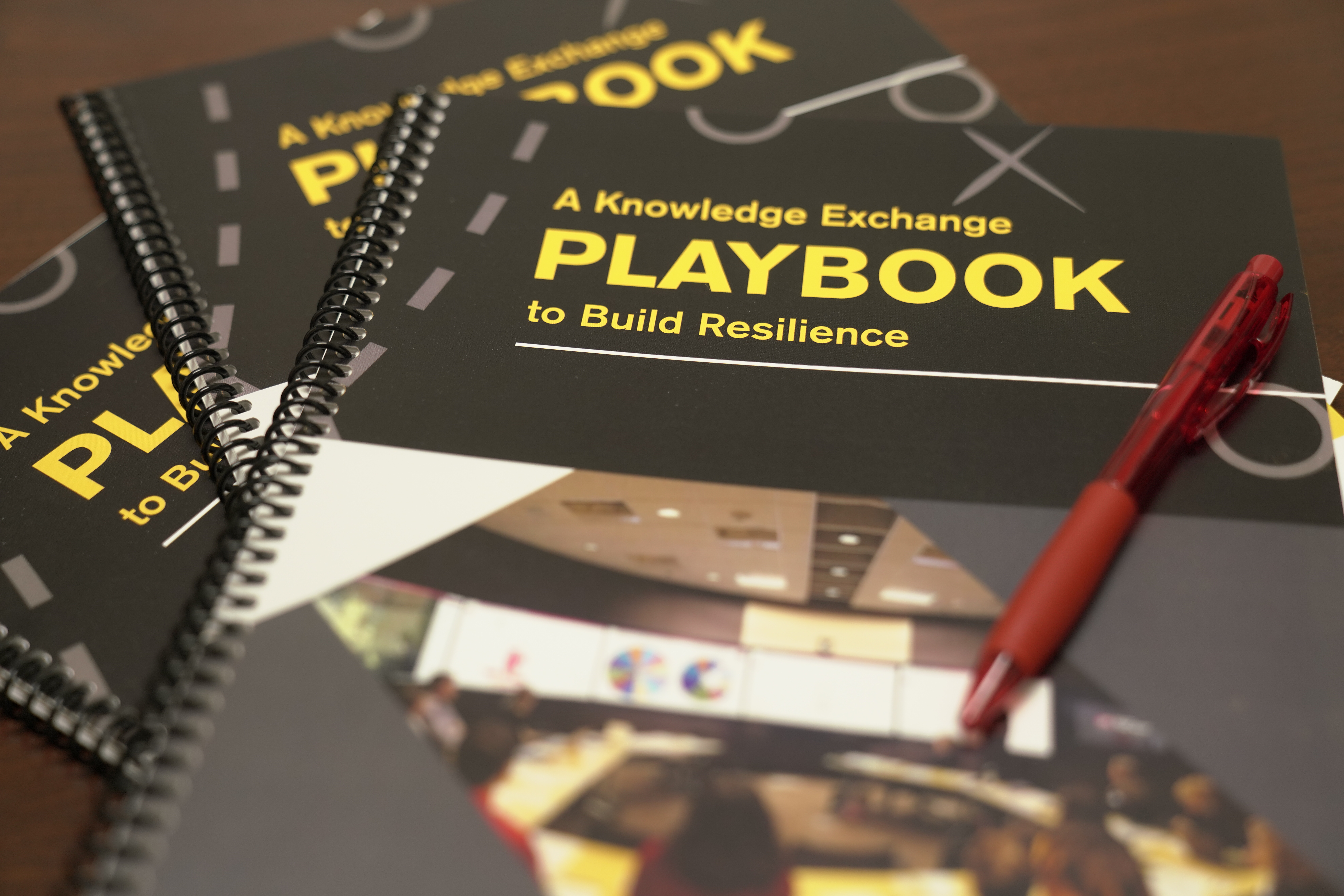 Contribute to the Playbook
We want to hear from you! What strategies and tools do you use to carry out collaborative, community-engaged projects? Suggest a new play, share helpful resources, or tell your story of putting the playbook to use. The playbook is a living repository; with your help, it can reflect the full diversity of experience and depth of wisdom of those engaged in this work.