Data Dashboards and Tools
Accessible analyses and interactive visualizations to empower informed action
We work with community partners to develop anticipatory models, dashboards, visualizations, apps and predictive data tools that help change agents and decision makers gain the insights they need to tackle our most pressing challenges.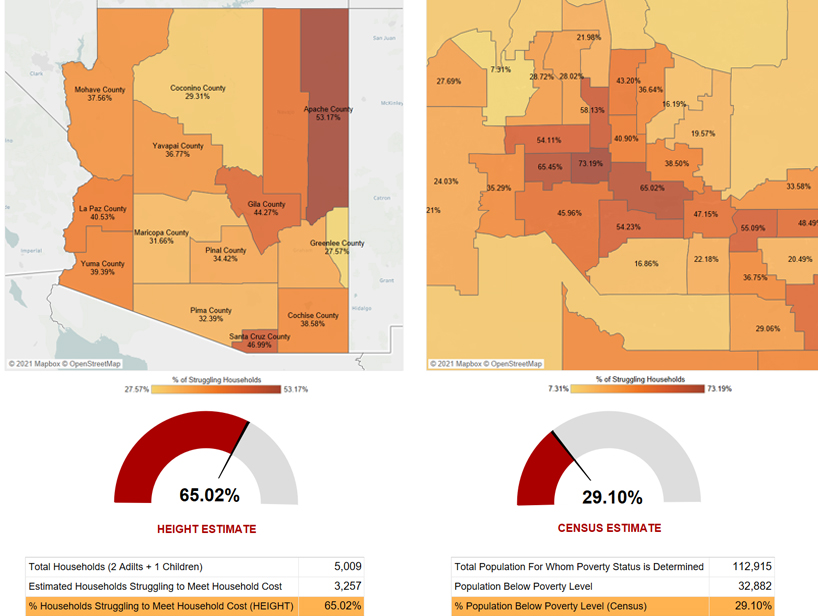 Featured data tool
HEIGHT Poverty Dashboard
How many Arizona households are struggling to pay for basic needs? We worked with Resilience Fellows from Valley of the Sun United Way to develop a comprehensive measure of poverty in the state. This dashboard lets users explore that analysis through geographic and demographic lenses.
Economic security and work
COVID-19 responses for community resilience
Uniting To Slow The Spread
A review of ASU's top research efforts to respond and support the community during COVID-19.
Make sure to take a look at our featured contribution on page 25.
Hundreds of ASU faculty, staff, and students have applied their expertise to stopping the deadly coronavirus in its tracks and helping Arizona become more resilient. This booklet chronicles their efforts and impacts over the first 6 months.
Research Opportunity
COVID-19 Household Survey
This survey aims to understand how people in Arizona are experiencing this crisis around the coronavirus. The survey features questions about recent behaviors, perceptions of the novel coronavirus (COVID-19), and demographic or health-related questions.
It takes about 15-20 minutes to complete.
ASU Now Article Series
Building community resilience across Arizona in the face of the coronavirus
Our first ASU Now article features 2020 Resilience fellows sharing how you can help build your capacity to adapt and boost community resilience during COVID-19.
On-Demand Webinar
Leadership and Resilience in the time of COVID-19
How can you become a more resilient leader? Learn about the latest research on adaptive leadership and gain the perspectives of community leaders working in Maricopa County. Watch the full webinar recording of this event held on April 17, 2020.